GuitarJamz Value Digital Bundles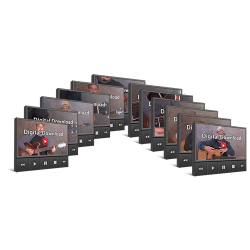 Beginner Guitar Digital Bundle (165 videos)
This is our signature package for Beginners! This digital download series takes even a raw newbie from never holding a pick to being able to play complete songs more quickly than you ever thought possible. And you'll have a ton of FUN in the process.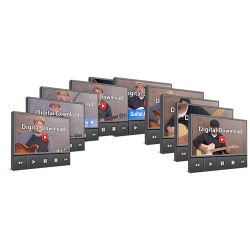 Blues Domination Lessons Digital Bundle
Blues Chapter 1: The first blues chapter is nearly 2 hours in length. Marty goes over the lesson plan in the chapter Intro module. Jump right in to the 12 bar blues, broken down step by step have alot of fun playing along with Marty in the chapter section Marty then teaches all the important Blues Turnaround this takes your blues playing to a whole new level. As you progress through this chapter Marty unleashes more Blues tricks and techniques. To finish up the Blues Chapter 1 Marty breaks out some awesome guitar licks and beginning solo techniques.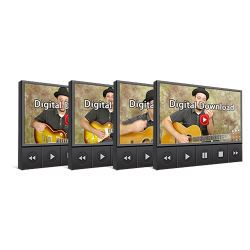 Chord Expander & Rhythm Master Digital Course
Chapter ONE will lay out the exact Blueprint that will allow you to master a wide variety of chord shapes. (This is something I've never demonstrated on a YouTube video, by the way.) Once you have these new chord shapes in your backpocket, I will show you how to infuse these amazing new tones in your rhythm playing. In this Chapter I will show you in step-by-step detail how to use my "Super Chord Expander" method for multiplying your chord repertoire literally by as much as you want. Once you watch these chapters, there will be NO END to the chord variations you'll be able to create, as well as being able to replicate any of your favorite songs that were previously impossible to play!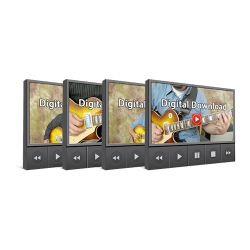 Music Theory Survival Guide Digital Course
Music Theory Chapter 1: In the first chapter Marty lays out the groundwork to Music theory specifically designed for YOU the guitar player. To get things started Marty teaches the most important basic building block of music theory a device called "Intervals". In this Chapter you will learn that these create different emotional states on your guitar playing & much more. Music Theory Chapter 2: In this next disk Marty takes "Intervals" to the next level, you will learn how to put guitar chords together & where they come from. Marty introduces "Keys" which will allow you to demystify the songs you hear & also allow you understand why certain chords sound good together which will open up you ability to write your own music.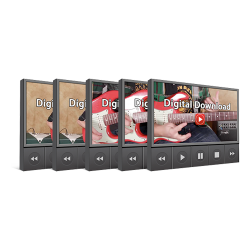 Rock & Blues Rhythm Revolution Digital Bundle
Chapter 1 will get you rocking by taking the fundamentally crucial basic open chords .... and turning them into power chords. And then by playing some basic progressions and adding more gain, you'll be able to instantly "rockify" them. This is how you achieve the sound you've always wanted, even if you didn't know how to do it before. You'll also learn tons of cool tricks and even more chord progressions that will open up your playing and get you to see the possibilities for yourself. (They're bigger than you think!) You're also getting a ton of tasty rhythm examples, ranging from AC/DC style progressions to Led Zeppelin, and Cream. These are the best of the best! NOTE: Since the lessons build off of one another, you'll surprise yourself by how rapidly you progress.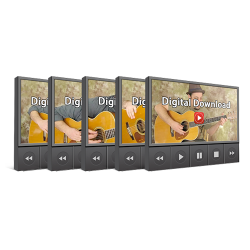 Acoustic Blues Digital Bundle Plus 10 Jam Tracks
Acoustic Blues Course 1: Chapter ONE will get you vamping with my personal tour of what I like to call "The Land of A7", along with its evil stepbrother, "The Land of E7". (This is something I've never demonstrated on a YouTube video, by the way.) Once you have these new chord style embellishments, I will show you how to infuse blazing licks into your blues while comping with chords. these "fills" will really add a new dimension whether playing by yourself or with friends Acoustic Blues Course 2: How to play acoustic Blues in other keys, and the bag of tricks that works for each one. For instance, there are some super cool tricks you can use in the key of G Blues that sound way harder than they actually are to play. No need to tell your highly…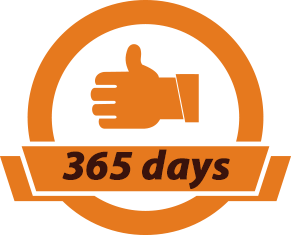 Here's my Totally Risk-Free, No-Worries, Guarantee
Let me make this easy for you.
I am going to give you a full 12 Month No Questions asked return policy on any of my courses. Put them to practice and watch yourself playing guitar and having fun in the shortest amount of time possible.
Get started rocking out today, I cannot wait to hear about your progress
You do not risk anything by ordering now.