Super Sale ends on Monday,
July 2nd, at midnight Pacific Time
Days
Hours
Minutes
Seconds
Wanna Know What Happens When You Take All
the Killer Essentials from the Old Blues Masters ...
and Then Apply Them to the Best of Modern Rock?
It Means You Can Instantly Play Just About ANYTHING!
(Anything Cool, That Is, When It Comes to Rock or Blues)
When You Watch These DVDs, You Become the COMPLETE
Player Who Lands Gigs, Amazes Friends and Creates the
Best and Coolest of the Modern Blues and Rock Genres
Watch the video below for a great sneak preview
of this amazing resource:
Dear Guitarist,
I'm actually shocked it's taken this long to teach you this ....

I say that because what you're about to learn is the very best of what everyone wants to hear (and play!) today.

I'm talking about the amazing blues-rock fusion popularized lately by such killer bands as the Black Keys, White Stripes, The Kills, Arctic Monkeys, the list goes on and on ...

We've taken months and have poured everything we know about modernizing the classic blues fundamentals into a 5-DVD set that lets you brings your guitar playing FULL CIRCLE.

What do I mean by that?

Well, first of all, let it be known that no one digs old-school blues more than we do.

Whether it's that sweet sound of B.B. King or the deep swamp soulfulness of the postwar Delta blues, we LOVE the essential blues sound that helped build the foundation of just about every guitar genre you can think of. That stuff is timeless, and our devotion to it is complete.

But it occurred to us that we never really sat down to create an entire program to teach you how to modernize the foundational blues so that you could get more gigs and become totally versatile.

I mean, seriously, have you heard what the Black Keys are doing with some pretty simple blues rhythms?!!

Have you heard how Jack White rips his killer garage band sound from the depths of blues fundamentals?

Or how about the way Gary Clark Jr adds distortion to his octaves?

We have demystified ALL of these incredible techniques (and a ton more) in this set. When you modernize the old-school blues essentials with what some of the best bands are creating today, you have come full circle and all of a sudden there ain't nothin' you can't do on guitar ... seriously!

The blues-rock sounds you can create easily on your guitar are so mind-blowingly awesome that it's nothing less than revolutionary.

That's why we're calling this package the "Rock & Blues Rhythm Revolution."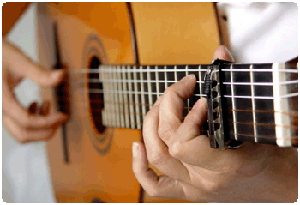 Here just a partial list of what's in this 5-DVD set:
Learn hip jazz voicings that add sophistication to your sound.
Learn a bunch of other awesome chord voicings that aren't hard to play but "sound expensive."
Listen to rhythmic passages and play right along with me.
Play with more gain and distortion -- but with RHYTHM.
How to come up with guitar parts as opposed to just strumming a chord.
Discover how to play spread voicings like John Frusciante of the Red Hot Chili Peppers and Dave Matthews.
Master staccato punches with the James Brown chord.
This is the really COOL stuff!
Get Our 5-DVD "Rock & Blues Rhythm Revolution" Course
For 78% OFF Plus FREE World-Wide Shipping!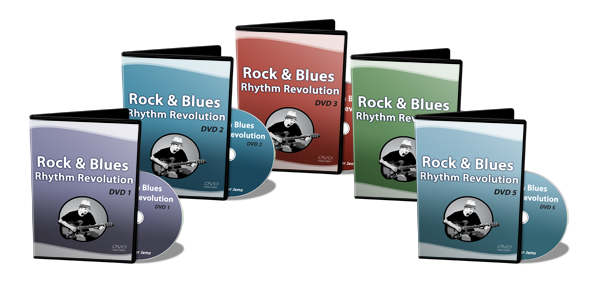 Here's What YOU Get Inside


"Rock & Blues Rhythm Revolution" 5-DVD Set
Rock & Blues Rhythm Revolution DVD 1:

DVD 1 will get you rocking by taking the fundamentally crucial basic open chords .... and turning them into power chords. And then by playing some basic progressions and adding more gain, you'll be able to instantly "rockify" them. This is how you achieve the sound you've always wanted, even if you didn't know how to do it before.

You'll also learn tons of cool tricks and even more chord progressions that will open up your playing and get you to see the possibilities for yourself. (They're bigger than you think!)

You're also getting a ton of tasty rhythm examples, ranging from AC/DC style progressions to Led Zeppelin, and Cream. These are the best of the best!

NOTE: Since the lessons build off of one another, you'll surprise yourself by how rapidly you progress.





Rock & Blues Rhythm Revolution DVD 2:

Okay, now it gets REALLY cool .... This is where we take all sorts of blues forms and concepts --- and then combine them with a killer rock edge.

You'll be taking the dominant seven chords and boogie blues rhythms and infusing them with hard gain and distortion.

And then, after getting some of the heavy blues rock out, we switch things up and go to a clean electric guitar sound. I show you my favorite and most used bluesy chord voicings. Believe it or not, I've got some really sophisticated sounding chords that aren't actually that hard to play. You will LOVE them, I promise. And some of these chords I haven't even shown in a YouTube video yet.

You will also watch as I take rhythm examples and chord progressions and fuse them together with the new concepts we have just learned. I make this seamless and natural.

On this DVD you'll also get examples of chords mixed with licks and double stops. Wait till you hear yourself creating these sounds effortlessly.



Rock & Blues Rhythm Revolution DVD 3:

This is where you'll discover more blues-sounding progressions using previous concepts. These are some of the most timeless bluesy progressions ever. Everyone digs these, and you will too.

You'll get a bunch of cool classic rock progressions that mix blues and rock together, which makes up so much of the popular music being played today.

In this DVD we also explore the existing concepts in a more soul and R & B setting. This is what I mean by "rounding out your play" and being able to play a wide variety of awesome music.

You'll be using blues chords and making them "funky" with different rhythm examples. You'll also be taking previous concepts and entering the world of "minor." Ah, what a wonderful world it is, too, as I will show some of my favorite minor keys, along with some great chord and rhythm concepts.





Rock & Blues Rhythm Revolution DVD 4:

On DVD 4, we explore some additional blues rock stylings that incorporate the "Hendrix Major" chord. Suffice it to say that anything related to Jimi Hendrix is right up my alley and some of the coolest sounds your guitar will ever produce! (Sorry, I'm biased. :) This particular chord was most famously used on "Purple Haze" but has TONS of uses for you and you will love it.

You'll also get some more classic rock tricks to spice up your basic progressions for a more sophisticated sound. (This is what separates you from the pack.)

This is also where I introduce you to some of my favorite "spread voicings" that have been used by tons of "all-time" bands ranging from the Red Hot Chili Peppers to the Beatles.

Finally, you're going to get a few more advanced "secret weapon" chords that will put everything together and take your chops as a rhythm player over the edge.




Rock & Blues Rhythm Revolution DVD 5:

On DVD 5, I tie it ALLLLLLLL together for you. This is where you officially become a "Rock & Blues Rhythm Revolution Rocker!"

You'll build upon what you've already learned by picking up cool tricks on how to master the progressions faster, and you're also going to get cool stylings that never would have occurred to you. You're going to be blown away by the wide range of blues and rock sounds emanating from your guitar when you incorporate these into your play!

You'll also learn longer progressions, along with how to dress up your licks to make yourself look like a creative genius in the process.

Discover how to use simple embellishments to create ingenious blues rhythms almost overnight. This is easier than you think, especially when you're able to see me up close with multiple camera angles and the ability to rewind and pause as many times as you like. (By the way, this is a much underrated advantage of learning by DVDs as opposed to learning with an in-person instructor --- you can really dial in a technique as many times as you want by looking at it and duplicating it over and over until it becomes seamless and natural.)

When you're done with this DVD, give yourself a big pat on the back and then go out and show everyone what you've learned! Note: Prepare to see jaws drop. :-)


Package Retail Value: $259.94



Order this special Rock & Blues Rhythm
Revolution 5-DVD Set package
Now at the 78% discount!
$259.94 $59.00!
(That's $200.94 OFF the regular price!)
Immediate Shipping
Rock & Blues Rhythm Revolution 5-DVD Set
YES , I want it! Please let me have one of the 73% off copies of your "Rock & Blues Rhythm Revolution 5-DVD Set" for just 259.94 $59.00
Free Worldwide Shipping Included
Have your credit card handy and click the happy orange "Add To Cart" button below to access "Rock & Blues Rhythm Revolution 5-DVD Set" right now...


Add to Cart: Rock & Blues Rhythm Revolution 5-DVD Set ($59.00)
P.S. Remember, this is the really COOL stuff .... this is what combines both old-school blues and modern-day rock into a style of guitar play that EVERYONE goes crazy for. When you see how I've demystified how the Black Keys create their killer sound, or how Jack White takes the best of blues and makes it his own, then YOU'LL be able to do the same thing! Heck, who knows, you might even land a playing gig with your new skills, or at the very least blow away your friends and family with how jaw-droppingly good you suddenly became. Let's do this!!
GuitarJamz
2033 San Elijo Ave Suite #254
Cardiff CA 92007
Copyright © 2009 - 2018 Guitar Jamz Inc