Grab Our Ebook on Blues Scales —
FOR FREE!

Why? Because If You Master the Scales,
Then You Can Master Guitar!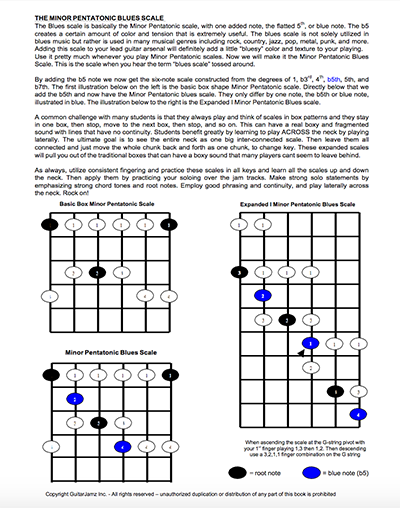 Look, the Pentatonic Scale is one of the most commonly used scales in all genres of music.
But it's especially crucial for playing BLUES GUITAR.
Let us send you our concise, user-friendly 17-page ebook that explains everything and removes all the mystery for you.
Just enter your email below and I'll send it right away :-)


Here is what you will learn in this free ebook:

| | |
| --- | --- |
| An explanation of each scale with clear illustrations. | |
| All the common box shapes you need. | |
| How to practice the fingering required to learn the scales. | |
| How to add more color and texture to your playing. | |
| Top 10 tips to advance your playing QUICKLY. | |
| How to develop your ear. | |
| How to bend strings for more expression. | |
| And much more! | |
**Please double-check that your email address is correct or. you won't be able to get our jam tracks. I take your privacy very seriously - your information is NEVER shared.
Copyright © 2009 - 2018 Guitar Jamz Inc.